Last fall, Thunderstorm Books asked if I could create cover art for author Ronald Kelly's new short novella, Strong Steps. Anytime I get to work with Thunderstorm is a great time, so I jumped right into it.
In the months just before I started working on the cover, I was coming off of a year-long hiatus from art. Not just from getting published work out there, but from any art at all. For that year, other than work that had been previously contracted, I didn't do any sketches, covers, or any real art at all. Despite having started sketching again, and a couple of minor pieces, this first new cover piece was making me a little nervous.
But with a renewed interest in doing art, I went for it.
I went back and forth in the process and sketching part of it, trying to decide what I wanted. I started over-thinking it, especially in trying to sketch the exact thing I wanted. Especially with the ideas from the story itself, it's about a man with palsy who is put into this extraordinary situation to save his son. I wanted to make sure the crutches were correct, his look was correct, even that the fictional monster/snake tattoo was right.
Luckily, I quickly realized that I needed to let that overworking idea go, and work more organically.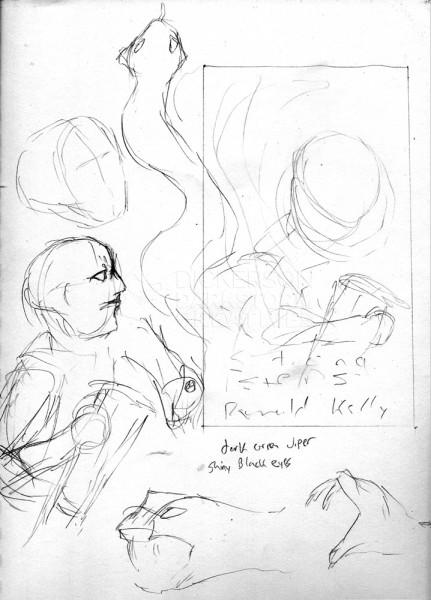 In the months after my hiatus, I had picked up sketching nearly every day in my Moleskine sketchbook on the way to work. Before you see in your head how I was sketching and driving at the same time, I have about a twenty minute bus/light rail commute as part of the journey each day. It's bouncy as hell, but usually I can get something down on paper.
When I'm sketching in my Moleskine, I let it go where it wants. I don't try to control the sketch, or try to make it go in a specific direction. That time is set aside to let my brain move through the sketch organically, for better or worse. You can see some of the results of that here: www.pinterest.com/rdickersonart/my-weird-sketches/
I decided to back off of the ideas I was sketching for the cover, and just let it happen organically. It was messy at first, but then it started working itself out, much as it does when I'm working in the Moleskine.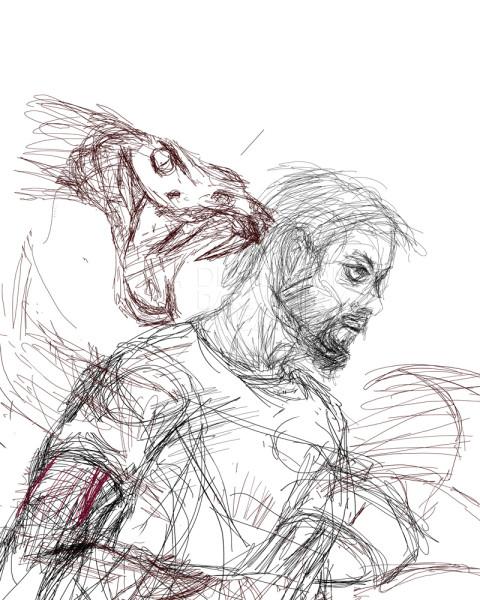 That's the final sketch version, the first step in Photoshop. The original rough sketch from my physical sketchbook can be seen very faintly above, and I just kept working over the top of it, sketching in Photoshop, until I managed to get what I wanted. The same with the snake, I just kept at it until I had the right look and feel for it.
I didn't forget any techniques from Photoshop, after being away from it for art. I work with it every day as a graphic designer, and it's deeply ingrained anyway. In fact, the hiatus perhaps made me focus things a little more directly, and the final vision came out pretty closely to this.
Here it is, the new cover art for Strong Steps. Click it for a larger version, and hit me up on the socials to let me know what you think.