Let's get down to brass tacks.
You are here to find out what it's going to cost you to get some of my work. I get that, so my general costs are listed up front in each section below.

These prices start things off, but they aren't set in stone so make sure you ask me what I really think FIRST. Prices might be higher, but they could certainly be lower in some cases. ASK.
The long version is below.
I like to overexplain things, which you'll see down in the netherregions of this page. If you read it all, and you're nicely dedicated if you do, it really lays out most of what I think about commissions.
How does it work?
You tell me what you are thinking about.
You check out my general prices and galleries while I think about what you're thinking about.
We agree on how much those thoughts will cost you, and how much time we'd like it to take.
We sign an agreement that says we will both do what we've said we'll do.
You pay me part of the money. I give you basic sketches and ideas.
We agree that the sketches are awesome (they are), and I create the real deal.
Lunch, or in some cases, dinner. This one might repeat a few times.
I send you what I think is great.
You tell me it is great, unless there are a few things that aren't great, in which case I'll start working again.
You tell me things really are great this time!
You give me the rest of our agreed-upon funds, and I give you the rest of the agreed-upon art.
Pinky and I take over the world.
Kick Ass Inks!
They really are, if I don't say so myself (ever so arrogantly). The best number to give you on inks is
$1 per square inch.

I do sometimes add ink wash or color to my pieces, or add mixed media, which may or may not affect the price. ASK!

For that, you get a physical piece of art, fancied up just for you. Quite often in a mat, ready to frame.

No rights though, those I keep (see the longwinded part below).
Scary (or not) Digital Illustrations
Ok, they aren't all scary. But my digital work for published books covers and magazines certainly can be. I've been published in lots of places by lots of publishers for lots of cool authors, and now I work for you. You might not even need a piece for publication, just for you. That's okay too, I still love you.

My digital work starts in the neighborhood of $500-$900, and really depends on what you need. It might go up some if you need very specific art, like the interior of the Hindenburg.

That includes full digital illustration and manipulating wicked photos too. I'm fine with either, or mixing the two.
Graphic Design and Vector Arts
I'm an award winning graphic designer.

No really, I am. Look at them all here:
The Fancy Design Site.

Truth be told, that's only some of them, since I've been at it for almost 20 years. That includes book covers, vector graphic art, web design, fancy watches, massive banners, ads, mugs, polo shirts, pens (and pencils, if you can believe that), and so on and so on.

I typically start design work at $60 per hour, and that can increase with how long it takes, if it has a technical nature, and if I have to be in a hurry.
Really Strange Mixed Media & Awfully Normal Paintings
Sometimes my brain hurts, and I create something abnormal. Often it's abnormal for you, often it's something "nice" which is abnormal for me.

I'm ready to create whatever you want. Normal-person paintings of ships and rocks, strange monsters on skatedecks, even sculpted oddities.

Pricewise for these kinds of things, well you'll just have to ASK. I'm happy to try anything.
I even write the things that need the writing.
Content articles, blogging, fiction, non-fiction, sales copy:

Check out my writing site at rhdickerson.com first, then contact me on my social networks.
Here's the original, long-winded version I mentioned.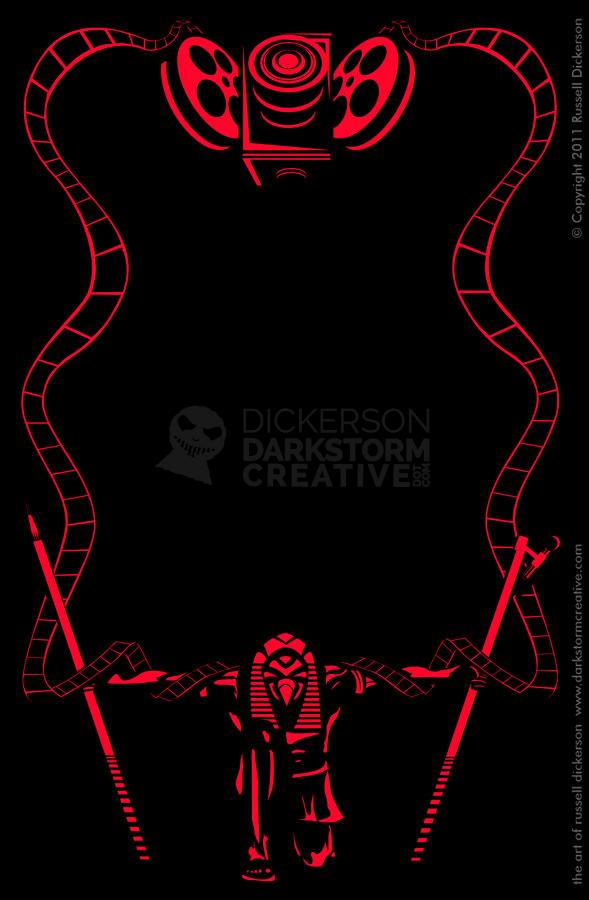 Need some art? I am open to commissions of my art, please don't hesitate to contact me and we can discuss price. I am constantly comparing my commission rates with many other artists, and I'm happy to discuss your needs and your budget.
I am also interested in discussing future illustrations with publishers, editors and other interested parties. Please contact me to discuss what needs you may have.This page describes the general ideas behind my commission rates. For further samples, just check out the rest of this site.
A few caveats, listed below. My very first and most important point is that I want to work with you on your art, to get you what you want. However, I also have certain styles (which is why you are here), and certain ideas with art, and I do commissions with that freedom in mind. Also, rates that we might talk about are starting points, and I would love to have further discussion with you.
Commissions can be from anyone, anywhere, whether you are an individual or an organization doesn't really change anything.
I like to pass sketches back and forth, so that we all agree on what the end result should be. But I don't expect to do 10-20 sketches, unless you are willing to pay a little more for that service. Part of the idea behind sketches is to agree on what the final work should look like, and if we can't agree by then, then perhaps I'm not the right artist for you.
I use contracts, and I have a discussion of that very thing on my site here (opens in a new window). Check it out (the full contract is on there), and, while there are slight differences between an individual and an organization, they are pretty similar.
I welcome commissions from publishers, and we can discuss what rights you need for your publication (or other need). I can work with ebooks, traditional printing, whatever you'd like. I usually just ask for my name/copyright to appear somewhere in the book, if not a credit line with the art itself (we can discuss that).
Physical art commissions do not give you any publishing rights, be they for prints, inks, acrylics, or any other kind of physical creation of mine. Sure, we can discuss that and discuss higher fees for more rights, and I'm happy to do so. But if you get physical art for me, you can not turn around and use it for anything other than we agreed on in writing.
Both of us should stick with the schedule agreed upon, though a little wiggle room on both sides can also be a good thing. Life happens, occasionally things get in the way, and I understand that. But establishing when you need something is very important.
As much information as I can get, the better off it will be. I appreciate samples from my site, the "I like such and such piece" discussion, because then I know what you are expecting from the final art. It also matters what final size you need it at, final resolution (if that matters, it does for any publishing), and those sorts of things as well. Communication is everything.
We can talk about payment. I can accept credit cards through my Paypal account (and, well, Paypal payments), and if you need to pay otherwise we can talk about it. For larger paintings or more expensive works, I'm open to discussing limited payment plans as well.
Since we are talking about payment, think of a commission from me as a service. You wouldn't pay your car mechanic or dentist with exposure, and you sure wouldn't ask them to fix it for free. Same thing here, commissions are a service that I provide, so I would expect fair compensation for that service. I don't (normally) work on projects for free, and exposure isn't something that you can give me.
If your idea is highly specific, very detailed, or otherwise would be more difficult (in my opinion) to pull off, we can discuss any extra fees that would be involved. My rates are subject to change at any time as well, at my discretion, and should be used only as guidelines. So, if you heard from such and such that I charge some outrageous amount, talk to me first to clear that up.
---
Digital Illustrations
Much of my work is created digitally, which can then be passed on as whatever file type you need. Size isn't as big an issue as it is with traditional media, as I still tend to create things at 12" x 16" at 400 dpi and just crop accordingly. Unless of course what you need is sized/oriented completely differently, in which case I'm happy to alter that.
I would expect with digital art to transfer a final "flattened" version of the art to you through email (or other digital means, in whatever format you need), and, if requested, send you a letter-sized print of the art as well through the mail.
Still, if you need something far larger physically or in resolution, or if your idea is extraordinarily detailed (either in actual art or in specific details like science or history) the rates will change.
A good example is creating a 100% accurate recreation of the Battle of Gettysburg, down to the correct buttons on the uniforms and correct fauna in the foreground, at 30" x 40". That kind of precise need would change the rate. I normally strive for as much accuracy as I can though, no worries there.
---
Unpublished or previously created works
I do sometimes have folks ask about licensing pieces that I have posted on my website, and whether they can be used for covers, interior art, and various other uses.
I do charge a fee for licensing previously created works, and it depends on what you want to use it for. Fees depend on rights requested, usage, or if I have to manipulate it any to work for you. Contact me if you see a piece on my site that you'd like to use for your needs.
A quick note: there are some pieces that I wouldn't allow usage of for various means. Some of the fan art inks, for example, I don't own the reproduction rights to (thus, "fan art"). Other pieces are specific to a publisher or author, or other need, or contracts might not allow it to be used for anything else. But just ask, I'm happy to talk about it.
---
Foil designs/vector art for publishers
I have created vector designs for foils/stamps for published books as well, and is a service I provide. The design at the top of this page is a foil stamp for the hardcover version of author Weston Ochse's Multiplex Fandango, released in 2011 from Dark Regions Press. You can see more of my foil designs here.
Vector designs can vary quite greatly, between very simple and very complex designs, thus giving a general rate isn't too easy. Let's talk about it, and let me know what you need.
---
Graphic Design
Graphic design is fully based on your needs, whether they are very simple or complex. I have created banner and magazine ads for authors, cover design and layout, and many other pieces.
Let me know what you have in mind, and I can let you know what I think the rate would be. Often a flat quote will give you a better idea of what it might cost, but I'm happy to quote an hourly cost too.
A note on cover design work
I've done quite a number of cover designs, for publishers, authors, and many others. I love working on new designs as well, for both print and ebook. One thing to keep in mind, if you're looking for design work, is that the proportions of print books and ebooks are often different. That means if you'd like to use the cover for both print and ebook, usually you have to redesign the layout slightly so that it will work with each format. It's not normally a big deal, but there are associated fees with redesigning for different media. They aren't a lot, but definitely keep it in mind before asking anyone to design covers for you. I'm very happy to discuss the differences too, and what they mean for both timeframes and the bottom line.
---
Ink Art
With ink art, I am under the assumption that you are looking for a physical media piece, and not digital usage. The idea would be that you are commissioning ink art to mat/frame, or have on a wall. The prices listed below are for the physical commission of the ink art.
That said, I am open to doing ink art as, ultimately, a digital file, where you wouldn't get the physical art and only the license to use it (for publishing and so on). Publishers, especially, often use ink art in their books, and I'm happy to discuss that. Since I haven't had published ink art in a decade, just ask me what that might be rated at. I would imagine it's near the grayscale art price, maybe a bit more, but I'm open to discussion.
Ink art is based mostly on the physical size you need. Not only does the actual price of materials go up for me, but it also means a lot more work and a lot more lines (A LOT, if you've seen my inks). If you need something more specific or detailed then let's talk.
Prices would be for crosshatched/standard inks. For color inks, ink washes, or other work, we can discuss how the rates might increase. If you need larger than 9" x 12" too, that's great, just let me know and we can discuss it.
Acrylic Painting
Acrylic painting commissions, like ink art above, are assumed to be for the physical piece and not digital licensing. Again, if you want to use a digital version for something, just let me know, I'm happy to discuss it.
Painting rates do not include framing or other fees, they are simply the straight painting rate. I'm happy to handle framing if you'd like, but often that works better since you know what it will look like in your home. I can definitely help out and consult on it, no problem there.
I usually paint on canvas panels using acrylics, but if you would prefer regular canvas, or wood panels, or other media, just let me know.
---
Mixed Media and other items
Some of my art pieces don't fit under a single media listing , so they are a little harder to rate for commissions. For example, The Lost Nightmare used scratchboard, ink and ink wash, acrylics, and even pencil to create it.
I would also count digital coloring of one of my ink pieces with that as well (or other digital manipulations of traditional pieces).
Just let me know what you have in mind, and we can talk about it.