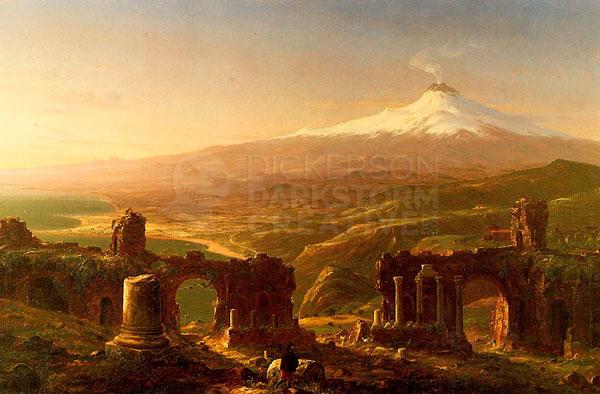 There are a handful of artists that I've seen over the years that never fail to excite me.  These are artists that inspire me to do better, even to see better. Every artist has an artist or two (or 12 in my case) that makes them want to be an artist, and at the top of my list is Thomas Cole.
Imagine then how absolutely amazing it was for me to walk into the Thomas Cole Room at the Wadsworth Atheneum in Hartford, Connecticut.  A whole room for my favorite artist, filled with canvases that I've only ever seen in books, and a few more I've never seen at all (despite having at least a few Hudson River books).
Above is Cole's Mount Etna from Taormina (1843, Oil on Canvas, 48″ x 33″), and it's the centerpiece of the Cole Room (still in awe on that). It's a large painting, filling much of the wall it hangs on:
Note: I did edit out my friend in this picture, since I never asked her if I could post her image on the web.  She did make a nice scale though to see how big the picture really is.
One thing before we get too much further: I'm a sucker for classical architecture, and I always have been.  Years ago (probably when they were being built) I was an engineering student, and all I could think of was to build buildings like that. So paintings that have architecture like that almost always get an extra score. Even if there are only ruins in it.
I think that Cole captures the area as an idea of eternity. Mount Etna looms in the background, both seemingly at peace and ready for activity, but always there. The ruins in the foreground show the past, and the person walking, along with the farms and boats in the center, show the present.  Cole shows not just a scene of the moment, but is showing the constant movement of life, history, and even loss.
What's great though, and something I've mentioned before, is that when you see a piece at a museum in person you get a better understanding of it.  From the image above and the one you'd see in a book, we could discuss Cole's composition, his palette, and other general ideas.  But in person, we get to see much more, like the house in the center: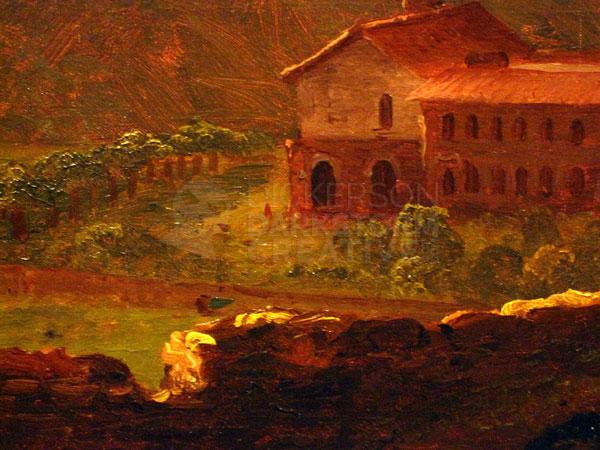 It becomes less just a landscape image and more of an idea of life near this volcano.  Where there are ruins, there are also crops, a home, and someone's daily life in this extraordinary environment.
You can also see, not just in the house, but Cole's techniques.  He laid these very brushstrokes on this canvas nearly one hundred and seventy years ago, but we can still walk up and look right at his technique for water, or a boat, or for highlights on the cliff: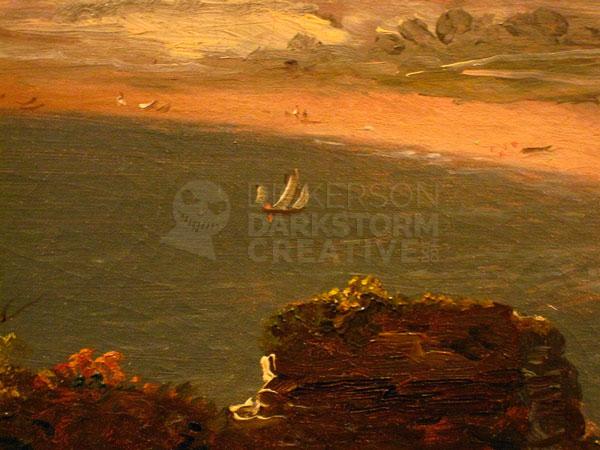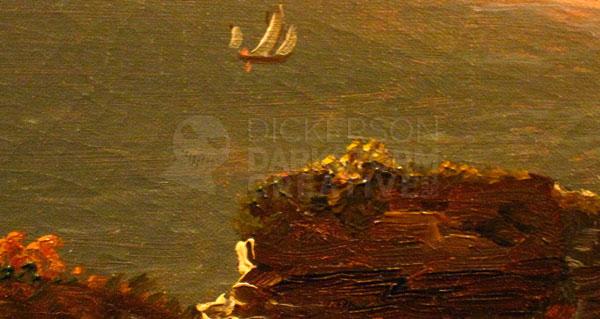 To me, seeing how an artist works is fascinating.  Whether it's watching the modern day artists do their work on the web, or seeing the brushstrokes from an old master, it's just incredible to see the techniques.
I like Cole's work here not just because of the strong image and composition, but because of the ideas that went into all of it.  He's not just painting a volcano, or some old bricks.  He's bringing a world to life, one that's not just of the past or the present, but eternal.
Opinions?