I've always been fascinated with the monsters of the old movies. The Creature From The Black Lagoon, Lon Chaney's Phantom of the Opera, and of course, Boris Karloff's Im-Ho-Tep from the 1932 film The Mummy.
The creatures of old had such great texture to them, such great characterizations. They were unique creatures, with their own way, and they've always influenced the ideas that I have when it comes to creatures in my artwork. Karloff's Mummy, in particular, has been stuck in my head for a long time.
I've inked the character before (here, as a matter of fact), as a small, closeup image. But for a long time, I've wanted to revisit it, to make something larger. I had a 12″ x 18″ sheet waiting for a different ink, an architectural ink of Palmyra. But I wasn't getting to it, and when the opportunity came up to do artwork live in front of folks, I thought Karloff would be a better choice.
The live ink session fell through, but I was still very interested in creating the piece. I've been working on more original inks lately, as opposed to the character/film inks that I had created for awhile. I enjoy the character inks though, especially in the challenge of bringing something real into the more confined world of ink art.
With painting, you can really create reality with the brushstrokes. I could have painted Im-Ho-Tep, but bringing him into inks is a challenge of changing the look of the art. The trick is to use the unique look of ink to bring him to life, without losing the essence of what he is. With inks, even with ink wash, you don't really get a photographic look out of it. That's one reason why I love inks, they just seem so different.
Here's the final piece, which I call The Return of Im-Ho-Tep. Beneath that are closeup images to see the detailed ink work, and at the very bottom of the page is an explanation of how I created the image, from initial sketch through finished art.
The Return of Im-Ho-Tep is 12″ x 18″, ink and ink wash on 140 lb. Cold Press stock. Click on any image for a larger version.
So, how did I do all that?
First, we start with the sketch. It's based on a few images of The Mummy that I found online, with a fair amount of Googling around. It's a little hard to make out in the photo, but he's more or less there.
Once I was happy with the sketch (well, happy enough), I started inking. For me, choosing the place to start inking is never easy. In my head, there's always a correct place to start, one that determines how the rest of the creation experience will be. Especially with inks, there's no turning back once you put a line down.
I decided to add some solid black areas first. I used a large Pitt brush pen to ink areas around the exterior, as well as specific black areas. Those included around his nose, eyes, and some of the wrinkles. After that, I started crosshatching around his mouth and nose.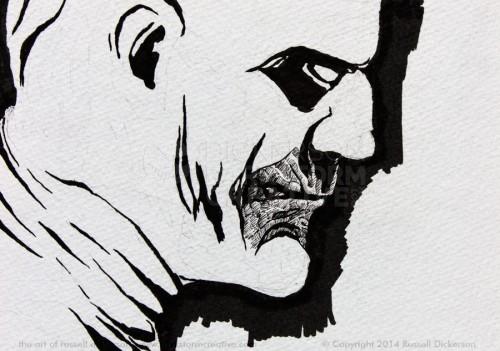 On some inks, I'll skip around where I'm crosshatching at. That's actually true of most of my art, I skip around enough that it would probably make someone watching me go crazy. In this case, though, I kept crosshatching only his head.
For me, it's the look of his head that defines whether the rest of the piece will work out or not, since he's very iconic. In a few pieces many years ago, I didn't quite capture the characters as I had hoped, and ever since I've been nervous about it. At this point in the work, it's make it or break it.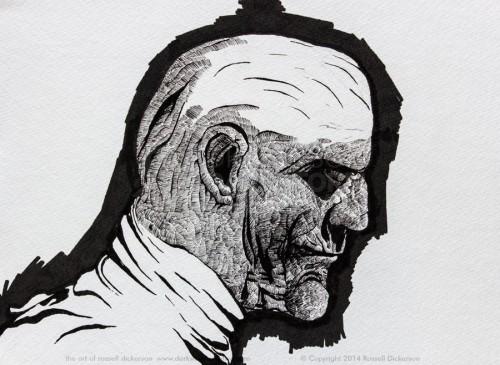 As is typically the case, here's where I lost my mind.
I loved how the texture was coming out, but I realized that, at some point, I would lose the texture due to showing the shadows. Both are very important, but in a piece like this the texture is really important. More lines for shadows, on top of that texture, would kill the effect.
So I picked up a couple of brushes, watered down some Higgins Black Magic ink, and started ink washing his head. I really liked the effect it gave, since it kept both the shadows and the texture intact. Just compare the one above with the one below.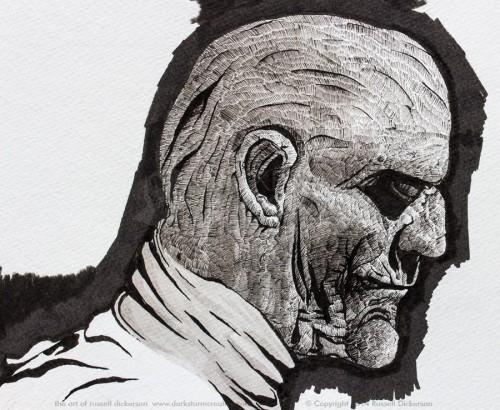 At this point, I did start jumping around a bit. Since I had the ink wash materials out, I decided to ink wash the rest of the image too. I also laid in the start of the background ink as a rough layer.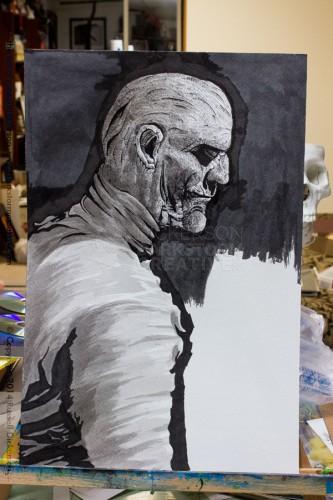 Then I started crosshatching again. Here's a photo of that, but considering that this is a 12″ x 18″ piece, you can imagine 8 or 9 more images of me crosshatching. It takes awhile.
Since the ink wash was there, I used the existing areas to crosshatch in different directions. I followed the texture created by the wash, with an idea of creating a bandage-style texture.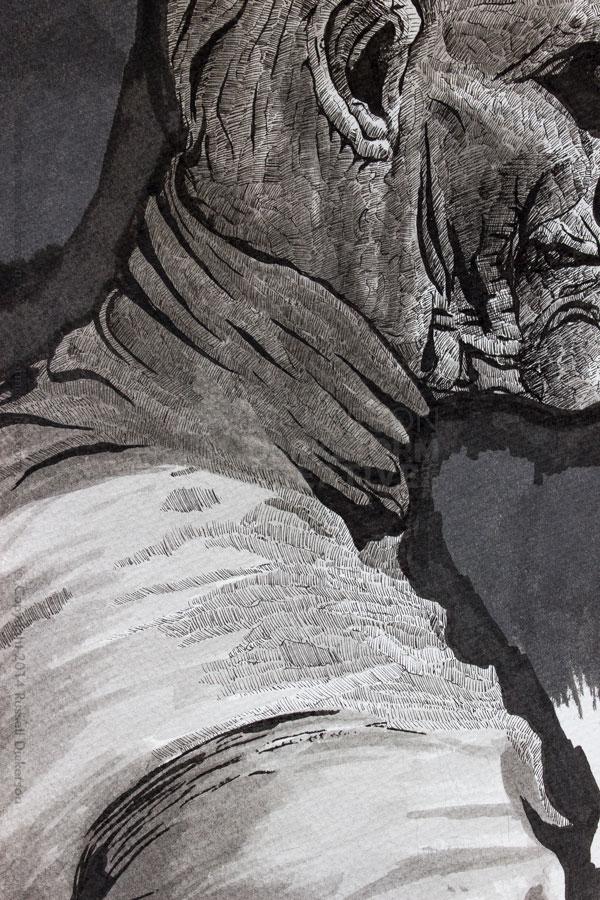 After the billions and billions of tiny lines were done, I finished the black background around everything. I also added full black to a few areas that I didn't think were working out, such as the back of his arm and his chin.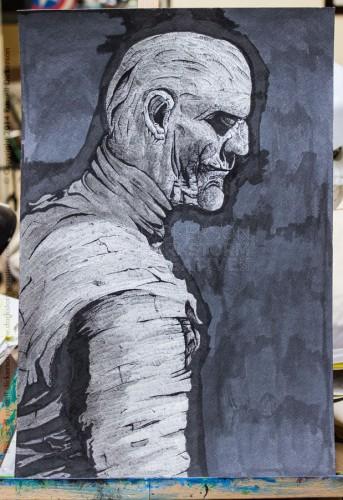 I used a bit more ink wash to darken a few areas, then I started adding the true black background. I use a Higgins Calligraphy ink for that, which gives a very deep black. It's an old bottle that I refill every so often, which I think helps the depth of the black. I'm sure there's some sentimentality too, something about loving the tools that you are used to.
This image shows the difference between the deep black and the original background ink layer quite well.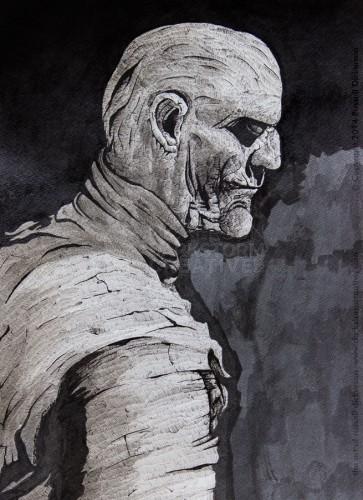 After that, I scanned it in, adjusted the scanner's output a bit in Photoshop (it picks up the canvas texture a bit much), then started writing this very short and concise article (HA!).
As always, let me know what you think of it.