For a couple of months this past summer, I was the focus of a Kickstarter campaign. Author S.P. Miskowski really wanted to have me work on the covers for three of her books, since she had used my piece Knock Knock for her previous cover. Her publisher, Kate Jonez of Omnium Gatherum, agreed, and they made a Kickstarter to pay me for my work. 
Once that was successful, we started work on the cover for the first of the books, Delphine Dodd. S.P. Miskowski is a great author, with a clear sense of story and visuals, so it was easy to come up with ideas for it. But one particular image struck me as fascinating.
In the story, our main character is walking up to a house of sorts in the woods, more like a sanitarium. She is to deliver something to the house, but as she comes up off the trail onto the grounds she's stopped by a very creepy woman in the garden.
So, I started some rough sketches to get some ideas out for what I was looking for. I had a pretty clear idea of the layout I wanted, and sent off the sketches to the publisher. As with all images on this page, just click for a larger version: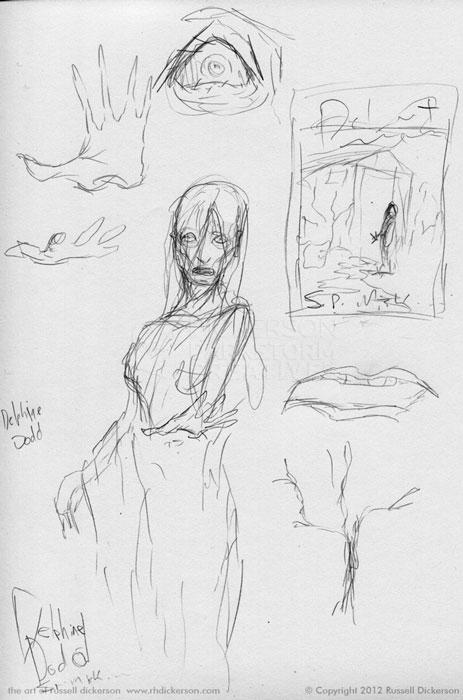 They liked where it was heading, so I created a far more accurate sketch inside Photoshop, and started laying in the art: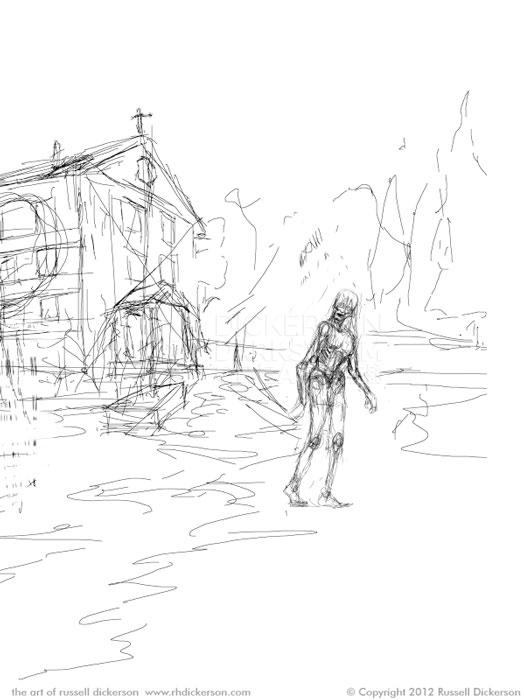 Now, I tend to start adding art in different places every time, and this one started with the background. Frankly, there are times when I just can't decide where to go first, but I felt that I knew where she was heading and decided on the background first.
The sky was created by using a rough "hash" style brush, then blurring it just to the point that you can't see the actual lines any longer. That gives you a nice, random cloud, yet located where you really want them: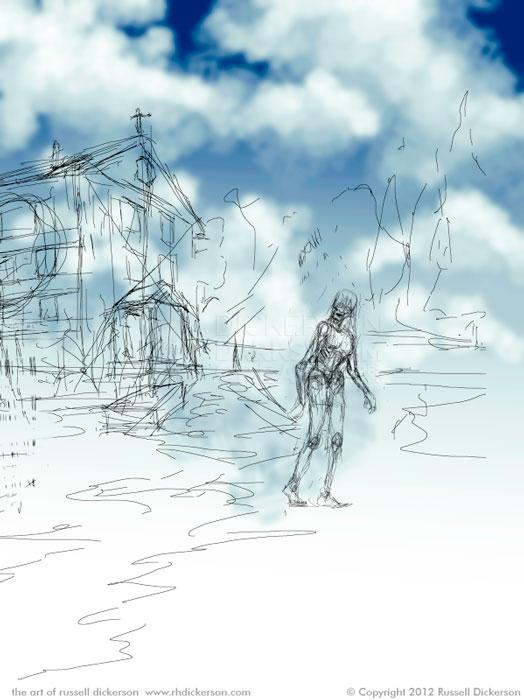 The rest of the image was created in a fairly typical way (for me anyway), as a traditional illustration in Photoshop. I reached a point with it that I knew I wanted to continue, but was a clear spot that I could send it off for opinions to the author and publisher.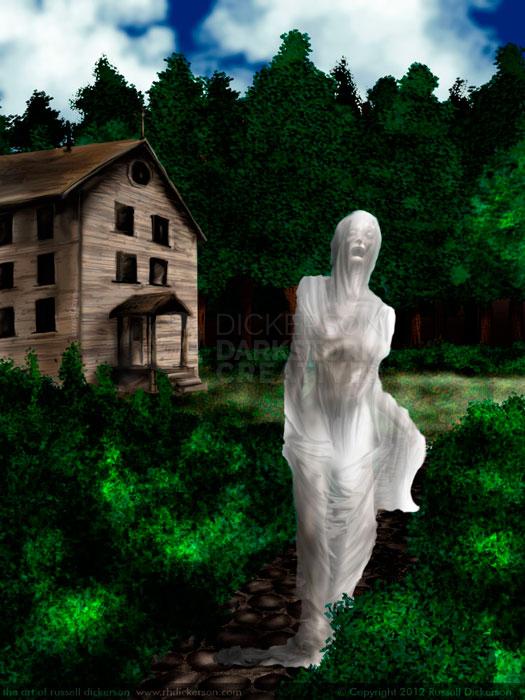 There was a lot I liked about this version, and I was trying to decide if I wanted to leave it as an "illustrated reality" or give it a bunch of texture effects. In the long run, after discussions with the others, I decided to try some textures over the top of the image.
Now, I have lots and lots of textures that I have taken myself, and I also have lots of links to other, web-based image galleries.  It's a bit of tinkering, really, just putting different textures on top of one another and trying them out with Photoshop's layer blending modes. 
Here are the layers that went on top:

Which is an old photo of a rotten wood fence that I had, a "grunge" image I found on one of my texture websites, and two photos from the inside of caves. Those, with some trickery, added just the right effects I was looking for: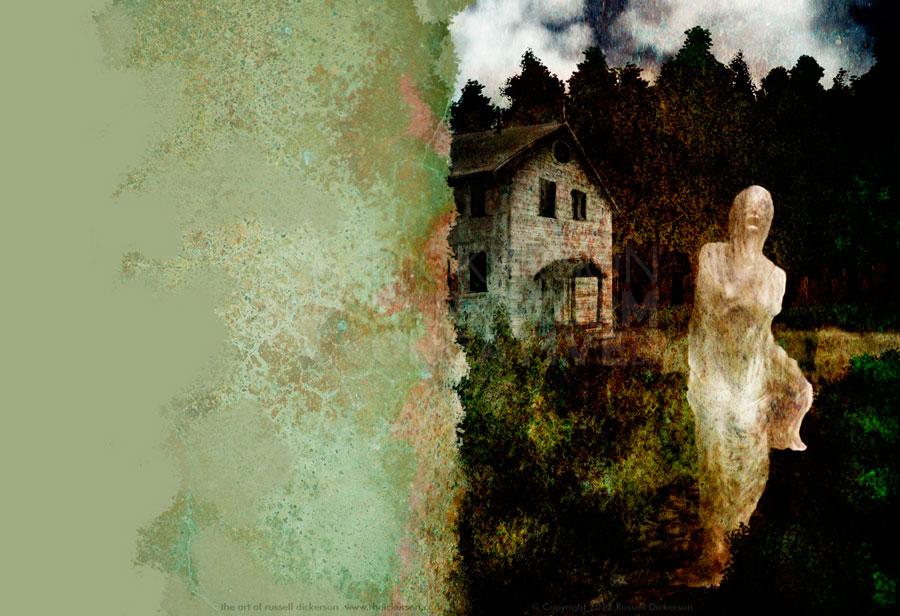 After passing those along to the others, and hearing how they were at the very least okay (or, "Wow. I think it's beautiful. Stunning." and "It's so spooky beautiful!"), I toyed with some text ideas for the title and author. Since we had already created a cover for Knock Knock last year, we had a good base to start from. Since Delphine Dodd is the sequel, the text (and, to an extent, even the art itself) should have similar ideas behind it.
After trying out the text with different colors, we tried to see what they would look like very tiny. A lot of shopping for books nowadays happens online, in places like Amazon, so you have to have a title that at least looks representative at a tiny, thumbnail size. Here was our comparison:

 The last one, with the darker red, seemed to be the one that hit the middle well. "Dodd" was still readable at least, and it didn't wash into the clouds so much like the other two.
 After fixing a few oddities in the artwork (edges of textures, that kind of thing), I exported it for publication and sent it on its way. Here's the final version, with text: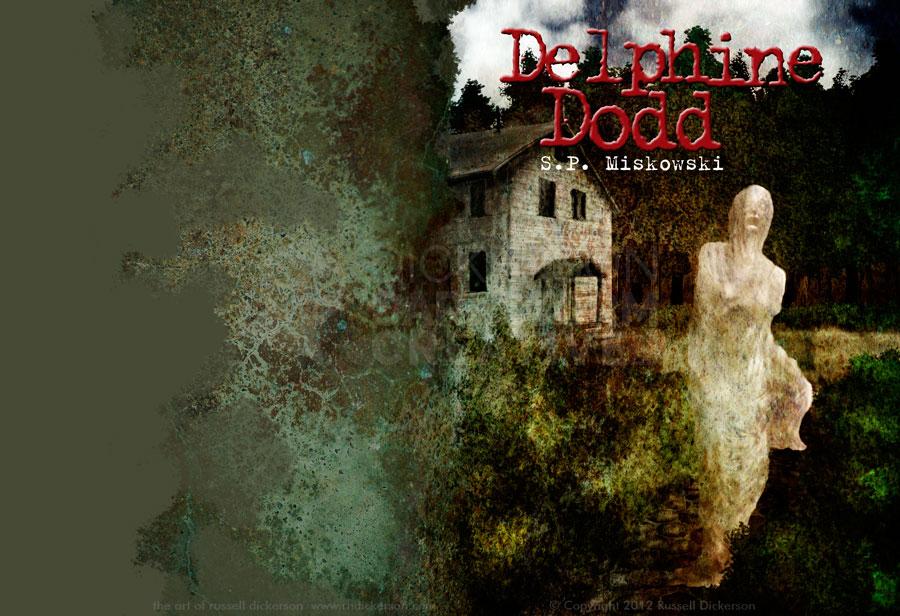 Here it is without the text, and as always let me know what you think of everything. Keep an eye on blog.omniumgatherumedia.com/main/ too, and pick up the great book: