I've been trying lately to get on a schedule of having regular, smaller works completed. The last month has proven instead to confound that plan, but I'm still hoping to get that worked out.
Case in point, my new painting for today. It's meant to be a smaller, less involved painting, and for the overall series I think it will fit right in. The idea behind the smaller works is to do less complex ideas, versus the detail that I add on the larger pieces and digital works.
This idea came about mostly because of the dark figure in the center of the painting. I've always felt that the art should draw in the viewer, that often you can leave much of the drama of the piece as a less detailed, more interesting area. This painting certainly follows that, as I've left the shadowy figure quite loose.
It's called Darkness on the Path, and it is an acrylic painting (8″ x 10″) on canvas panel. As always, let me know what you think. I've also added some close up photos as well, for more detail.
If you are interested in purchasing the painting, you can buy it at www.etsy.com/listing/82107737/original-acrylic-painting-darkness-on.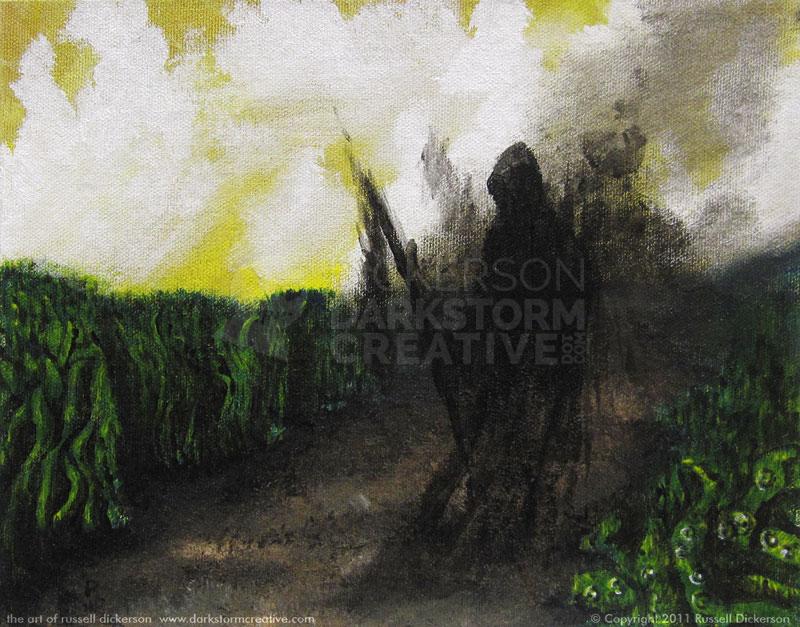 Closeups: