I'll be attending the World Horror Convention in Austin, Texas this week, and I'm hoping to meet a lot of people there. I have a number of friends that will be there, along with quite a few I talk with online who will be nice to meet in person.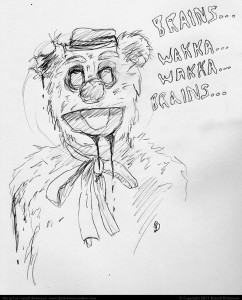 If you decide that you'd like to see what a poor, unemployed, REAL starving artist looks like, here are a few places you might just find me. First, the "official" list:
Artists Are People Too! panel
4:00 PM Friday, April 29 – Phoenix Central
Scott Edelman, Russell Dickerson (M), Vincent Chong, Steve Niles, GAK
Thanks to the Internet, a right-click of the mouse lets anyone copy an artist's work right off the Web. It's not unusual for someone to look at a piece and declare, "My kid could paint that!" or to assume that art's easy—just be creative once in a while and then the money flows in. We've heard from writers about their rights; now it's time to hear from artists.
.
I'm interviewing Artist Guest of Honor Vincent Chong
5:00 PM Friday, April 29 – Phoenix Central
.
The WHC Carnival/Art Reception/Fun times
8:30 PM Friday, April 29 – Multiple Spaces
I will be live inking (not painting, didn't want to have acrylics blow up on the plane) during the carnival, stop by and either check out what I'm inking or commission me for something else.
.
Mass Signing
7:30 – 10:00 PM Saturday, April 30 – Phoenix Central
Bring your books or magazines that I've done artwork for, and I'll be happy to sign them. If not, I should have some small giveaways to sign, or a few things to buy if you'd like.
Otherwise, I'll probably be around at various places. I'll have my iPad too, I'm happy to show you my portfolio of art on it and my latest works. I will probably drop by the Thunderstorm Books booth, being one of my publishers, and I'm sure I'll make it to a bar here and there.
See you there!