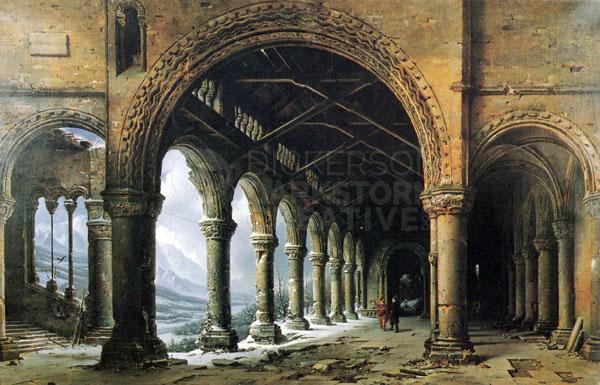 Occasionally, and I've mentioned this before, I go looking for one image and come up with one that's completely different. In this case, I had seen Louis Jacques Daguerre's The Ruins of Holyrood Chapel, and fell in love with it.  But it hasn't been the easiest to find in a larger size, and while looking for it tonight I came up with this one instead.  I may even like it more.
This is Daguerre's The Effect of Fog and Snow Seen through a Ruined Gothic Colonnade (1826, Oil on Canvas, 40″ x 60 1/2″), and as soon as I saw it I fell in love with it.  It combines textures, architectures and seemingly a whole new world, and it caught my eye immediately.
First, I really like where your eye is drawn to the image.  Normally, the artist might draw attention to the people in the image, but in this case it really seems like Daguerre wants you looking out into the world. The angles of the architecture all come to the central left of the image, right into the mountains in the distance.  The brightness of the clouds and the mountains themselves are practically illuminated next to the dark, ruined halls.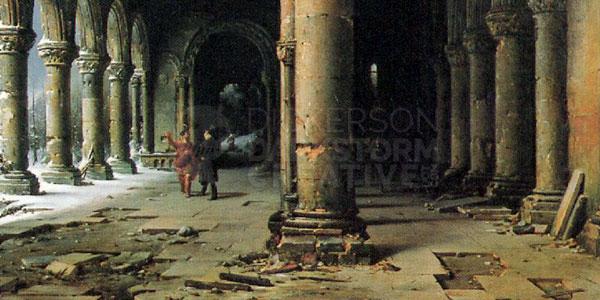 Those ruined halls also grabbed my eye, and, despite the opposite idea, bring a life to the piece that it may not otherwise have.  This is a forgotten, lost place, but seemingly set within the beauty of nature. It's as if no matter what has happened here, no matter who has forgotten this place, no one can forget the scene around them.
The textures that Daguerre used throughout the painting are fantastic, and really set everything apart. The mountains have a majestic feel to them, and the harsh, cracked and broken ruins highlight that even more.  There are gaps in the stones on the floor, heavy damage in the columns, and debris everywhere. Daguerre shows the smallest details, from the snow blown in on the floor to the branches that have invaded over time.
I love works of art that bring a new idea, a new world to light. To combine the desolate, forgotten ruins with the majestic natural beauty they lie within is no small feat, and something that Daguerre pulls off wonderfully.
Opinions?