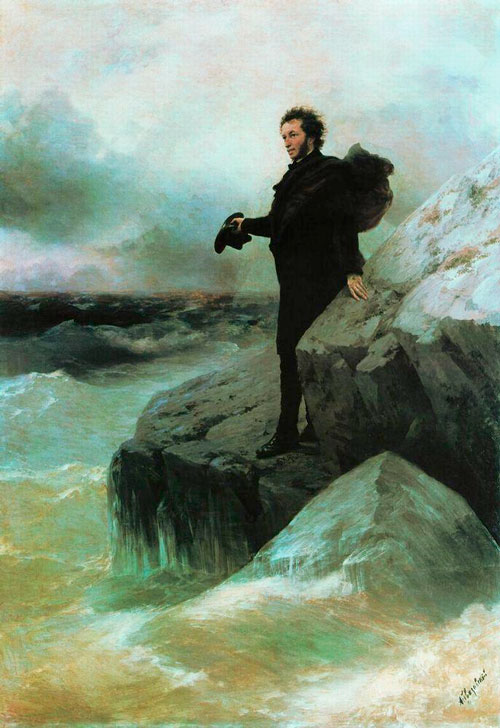 Ok, so it's been a little while since the last one of these art blogs. I'll see if I can't post a few more of them, and without the 4 months between them.
Above is Ivan Aivazovsky and Ilya Repin's Pushkin's Farewell to the Sea (1887, Oil on canvas), one that caught my eye when I was looking for the new piece.  Probably because it reminds me a bit of one of my favorite pieces, Caspar David Friedrich's Wanderer Above a Sea of Mist (here).
I'll be the first to admit that I don't know a great deal about Alexander Pushkin, the man in the piece. I know that he was a great Russian poet, and lived a wilder life similar to Byron.  Unfortunately, other than that, I'm light on information.
I think though that this piece can stand without the knowledge of who Pushkin was, and the life that he led.  It stands on it's own, both as a indication of Pushkin's life and as a simpler story of a man at the crossroads.
First, on the composition and palette.  I think that Aivazovsky and Repin (who I've talked about before) have a great sense of what they want to accomplish together. You don't get the sense that Repin worked on the man, and Aivazovsky the landscape (which is how it was according to several sites), but that the piece is of a common hand.
The darkness of Pushkin's clothes bring you right to him, with the lighter shades of the sky, the darker ocean and the angle of the rocks all bringing you back to him. What's interesting (and well done) is how Aivazovsky and Repin frame the darker colors within the light, and also, in return, the light shades of Pushkin's face within. It brings you right to the emotional spot in the piece, but doesn't force you there as the neutral tones of the overall piece soften the blow.
What I like to is the emotion of Pushkin, the ambiguity of his look and feel. He's not neutral in his emotion, but his portrayal can be seen in different ways.  Is saying a sad, forlorn goodbye to what he loves? Is it a sarcastic goodbye, to follow a new path? Is it an unsure step? Aivazovsky and Repin leave that to the viewer, a way to involve the user in the painting and not simply show you a scene.
Aivazovsky and Repin give you a sense that Pushkin, having come down to the rough sea on the rough rocks, has lived an untamed, wild life. Yet, in Pushkin's calmness to the scene we see that he's already lived that life, and he's deciding where it goes from here.
The viewer too is left with an inquisitive sense of it all too, to explore where Pushkin has been and where he's going.  That's what a great piece of art can do, to inspire those who see it to make their own path.
Opinions?